We Have Certified More Than 300 🧘🏻‍♀️🧘🏻🧘🏻‍♂️ Teachers In Dubai RYT 200 Yoga Course
Upcoming RYT 200 Yoga Training
Weekday: Jul 10th to Sep 7th - Motor City
Weekend : July 8th to Sept 10 - Motor City
* Register today and Get a 3 months yoga studio membershipWe Have Certified More Than 300 🧘🏻‍♀️🧘🏻🧘🏻‍♂️ Teachers In Dubai RYT 200 Yoga Course and conducting yoga classes in Motor city - Dubai for more than 5 years​
To know more about this course, the curriculum , timings, what is a typical day in the course, what is the scope of the course, the various topics we teach in the course, watch the video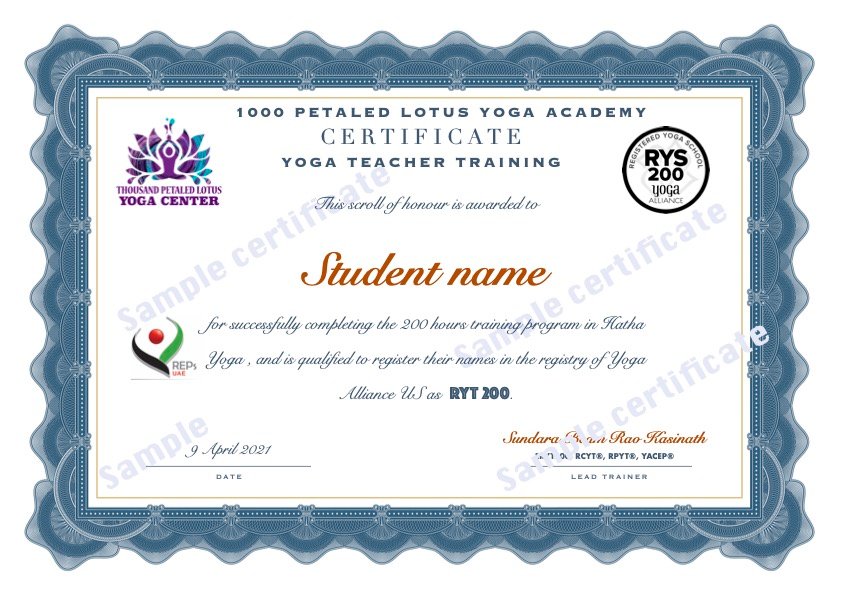 RYT 200 Yoga Teacher Training Certification Course - Dubai
The RYT 200 Dubai Yoga teacher training course is approved and recognised by Yoga Alliance USA and REPs UAE.
This course is internationally recognised and allows you to teach anywhere in the world.
Our accreditations for the Dubai yoga teacher training course
Yoga Alliance USA 
Yoga Alliance is the largest nonprofit association representing the yoga community, with over 7,000 Registered Yoga Schools (RYS) and more than 100,000 Registered Yoga Teachers (RYT) as of April 2020.
Registry of Exercise Professionals – UAE 
REPs is an independent, public register which recognises the qualifications and expertise of fitness professionals in the UAE.
Yoga Teacher Training – 200 Hours
15 % Discount on Yoga studio Membership
Post training mentorship program
Lifetime access to course videos
What we teach in this RYT 200 Yoga course in Dubai ?
"We teach you Hatha yoga, which is the foundation course for all other forms of yoga. This is a multi-disciplinary course. After successful completion of this programme, you can confidently lead classes and work as an instructor for group and/ or one-on-one classes in the following disciplines – Gentle Yoga , Power Yoga, Hatha Yoga, Vinyasa Yoga, Pranayama, Meditation and much more."
When is the next RYT 200 Yoga course in Dubai ?
Weekend Course April 08 to June 16 – Location Motor City – Dubai 
Weekday Course April 10 to June 14 – Location Motor City – Dubai 
Weekday Course May 1 to July 4 – Location Al Barsha – Dubai 
Weekday Course July 10 to Sep 7 – Location Motor City – Dubai 
Weekend Course July 08 to Sep 10 – Location Motor City – Dubai 
The student experience at 1000 Petaled Lotus Yoga Training and Retreats includes a diverse range of cultures, curriculam, and extracurricular activities. We offer many options for our yoga teacher training students in Dubai to choose from, making them directly involved in designing their own educational path which meets the high standards of our core curriculum. There's so much for students to do and experience here.
Fab lessons with Sneha. I always come out feeling fantastic, more relaxed and several centimetres taller after all the great stretches!! Very tailored lessons to all levels and abilities. Friendly, relaxed and very welcoming environment.
Awesome instructors they make beginner so comfortable.
Thoroughly enjoy the yoga sessions at 1000 Petalled yoga center . The staff are very dedicated and each participant is permitted to practise at their own pace and ease without being pressurized too much . Special thanks to ms Sneha for making the ladies sessions so much enjoyable and effective and relaxing for both the mind and the body .
Fiona Jane Vlemmiks
2023-02-18
So happy to have found this wonderful yoga studio. The atmosphere is lovely and there's a good range of classes for all levels, including swing yoga which has really helped me get stronger and gain confidence. Would definitely recommend to anyone seeking an authentic yoga class with excellent teachers.
Amazing Studio 💕 Sneha is a Great Yoga teacher and she make sure students are enjoying the class and learning the yoga. I highly recommend this yoga studio to everyone. Best yoga place in Dubai.
Mehnaaz Muzzamil
2022-12-29
I take yoga classes with Sneha, she is very knowledgeable and easy to work with. She made me love yoga and really benefit from it. She's a great instructor, would definitely recommend her! The yoga centre is clean and no pretentious crowd, everyone comes to genuinely benefit from yoga and are very kind to each other.
Excellent center where all of the instructors know yoga on a deep level. Sneha is an amazing yogi with a lot of knowledge.
It was an honour to lrean from Dr.kasi, I did my 200 YRT, and my swing yoga TT with him in 2019, and I've been teaching since then, i still go back to the manual and read the notes, it was a life changing experience through out the years he never stopped supporting me. I couldn't ask for better teacher and mentor. Thank you Kasi for the gift of yoga
I love my sessions with Sneha and Dr Kasi . In the two months that I have been practicing at the center, I have gained confidence in my ability, strength and flexibility. I have done things that I thought I would never be able to , such as , Swing yoga. Their method of instruction is crisp, helps you challenge your self while being mindful of any issues that you have.The take away for me, is a love for yoga, a community from the studio, better understanding of my body, pain management and leaner and fitter self. So thankful to have found them and wishing that I had found them 3 years ago. Thank you Sneha, Rachita and Dr Kasi for creating this wonderful space.
Sneha has been excellent in understanding me during the yoga session. She has motivated me and helped me correct my posture and given me feedbacks to get better. She has been very helpful. Highly recommended.
This 200 hours of yoga journey is a transformation, we have trained  more than 350 teachers who had experienced transformation in their physical , mental and emotional levels.
We strongly believe if you are an own witness of your transformation, you can easily pass it to others, this is how we make bench mark yoga teachers in the industry, our teachers are now teaching all over the world.
Check Out Our Other Yoga Teacher Courses
We have different variety of Daily Yoga classes for all levels